天天彩票微信提现:Accolades Taipei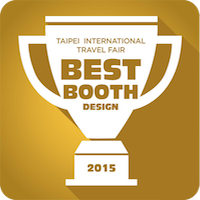 Guam wins best booth design at 2015 Taipei International Travel Fair
(Monday, December 14, 2015 - Guam) 

 The Guam Visitors Bureau (GVB) recently attended the 2015 Taipei International Travel Fair (ITF) in Taiwan. The event was held November 6-9, 2015 and received a record-breaking 340 thousand people, surpassing last year's numbers and providing a great platform for promoting tourism.

GVB General Manager Nathan Denight, Marketing Manager Pilar Laguaña, cultural entertainers Taotao Tano', Miss Earth Guam 2015 Skye Baker and the rest of Team Guam all participated in ITF events creating positive momentum to promote the island. Denight was also invited to join the ribbon cutting ceremony at the ITF grand opening led by Taiwan's Vice President Wu Den-yih, as well as the USA Pavilion opening.

"It was an honor to represent Guam, help open up this year's ITF and meet Vice President Wu," said GVB General Manager Nathan Denight. "Taiwan is an important market to our island and we are working hard with our airline partners and travel agents to make it enticing and convenient to bring more visitors to Guam. As we continue to grow and diversify our tourism arrivals profile, we are proud to share the unique activities and events that can be found only on Guam with the Taiwanese people and invite them to visit Guam in 2016."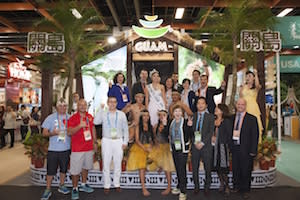 Additionally, the Guam booth outshined over 1,400 exhibit booths, securing the prestigious "Best Booth Design Award." The booth showcased impressive cultural Chamorro performances and was a great medium for Team Guam to communicate with the Taiwanese travel and trade consumers. The stage activities and on-site social media program also received huge amounts of feedback, gaining strong support to Guam's many offerings, including the fourth Shop Guam Festival that is on-going through February 15, 2016. Interviews with Taiwan's leading trade media were also conducted to share the most up to date developments on Guam and introduce Visit Guam 2016 signature events, including the opening of the Guam Museum, the PATA Annual Summit and 12th Festival of Pacific Arts (FestPac).
 
In addition to Guam's presence at ITF, Governor Eddie Baza Calvo was also on a mission in Taiwan to attend a series of travel activities, including meetings with China Airlines and EVA Airways, and delivering opening remarks at the Destination Guam Travel Trade Workshop. He discussed challenges and opportunities for the Taiwan market, as well as the goals for Guam's tourism industry.

Island businesses also came together to promote Guam's products and services. They included the Guam Reef & Olive Spa Resort, Hyatt Regency Guam, Skydive Guam, Aqua Suites, Days Inn, the Westin Resort Guam, and Ameri-Guam International Inc.

Guam has proudly participated in ITF since its inception 29 years ago.
Photo: Team Guam stands proudly in front of the Guam booth. Guam received the "Best Booth Design Award" out of 1,400 exhibit booths that were featured at ITF.